SDD ITG, franchising partner of Inter Engineering, the established and renowned Value Added Data Security distributor, and Belgrade Chamber of Commerce organized a workshop named "Future of IT Security, prepared today" on 24th March 2010 in Belgrade. A peek at the future of IT Security taken today.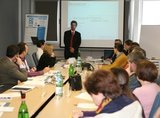 Mr. Josmaarten Swinkels, Inter Engineering CEO, showed to umerous attendees of different profile an image of threat landscape today and its impact on modern digitalized business, as well as information about latest Data Security solutions.
Among many interesting issues, Inter Engineering presented modern hacking tools and latest methods, but also explained other sources and directions of attacks, surprising listeners with statistics concerning harm done to the organization's IT security by its own employees, on purpose or by accident. Comprehensive overview helped audience understand risks every organization in global environment is facing in the attempt to protect its most valuable asset – information.
Great success of the first Data Security event Inter Engineering organized in Serbia encourage us to continue to invest in knowledge and expertise of our team, thus delivering extra value to existing and potential partners and end users and truly being one-stop-Data-Security-shop.
More information on www.inter-datasecurity.com